Learn how to get noticed by employers and land your first job or internship.
Hear first-hand from Advanced Resources' recruiters and learn about what employers are looking for in new graduates and how to increase your chances of getting hired. Our team shares insider tips to help you plan a strategic job search, offers answers to all your questions, and gives away some great resources to aid in your job search.
You'll walk away with an action plan and the confidence to land your first job or internship.
Watch the recording here:
Fill out the form on this page to download the recording and slides.
Share this event: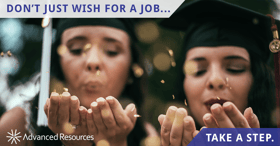 About Our Webinars
Our Job Seeker Webinar series was developed to share our expertise, providing valuable interviewing tools and techniques for those in the job search process.
Want more? Visit our job seeker webinar page to view more recorded webinars, download slides, and register for future webinars! (click here)