How to Shine on Your Phone Interview
The phone interview is a common first step in the interviewing process. Employers often receive hundreds of applicants for every position they have open, and the phone interview allows them to narrow that field of job applicants.
Your goal as a job seeker is to convince the interviewer that you are worth pursuing further in a face-to-face interview. Phone interviews present a challenge, however, in that all you have is your voice. You can't observe the interviewer's body language and you can't make eye contact, so creating a positive connection is a little harder. Advanced Resources' comprehensive guide to phone interview success will help you shine on your phone interview. Inside This Guide Before the Call: Preparation During the Call: Making a Great
In this guide:
Before the Call: Preparation
During the call: Making a Great Impression
After the Call: Action Steps
Download your your guide and start mastering the art of the phone interview!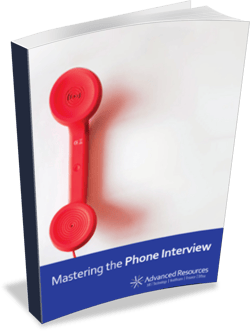 Share with a friend or colleague: