You're Ready for the Job Search, Is Your Resume?
You've decided you're ready to enter the job market. Now, do you have an updated resume? A current, up-to-date resume is needed whether submitting to a job posting or sending to a friend.
In this free, 1-hour webinar, we will share the basics to include in your resume, what to check if you're updating along the way, and how to tailor your resume for specific positions to help land the job.
Meet the Presenter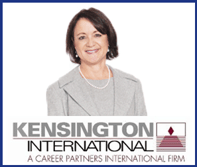 Advanced Resources is pleased to partner with Christine Nowicki of Kensington International, a premier talent management services provider. Christine is an Executive Coach with over 20 years of experience. Throughout her diverse career, Christine has helped hundreds of professionals take their careers to new heights and has become an invaluable resource in discussing professional resumes.
Watch this webinar by completing the form on this page.
Share this webinar: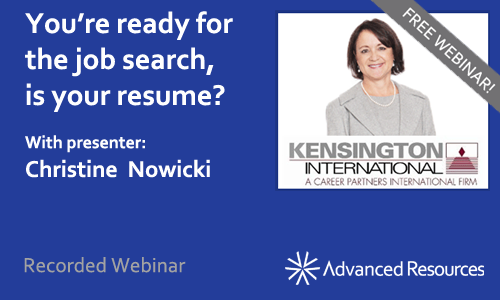 About Our Webinars
Advanced Resources is Chicagoland's top award-winning staffing firm. Our Job Seeker Webinar series was developed to share our expertise, providing valuable interviewing tools and techniques for those in the job search process. #JSWebinar