Do you know what it takes to be the best?
We do.
Each year, Inavero's Best of Staffing® competition awards staffing firms who have proven superior service quality as rated by hiring professionals and job candidates. The Best of Staffing distinction is based upon the Net Promoter Score philosophy:
Simple and easy to use
Focuses on Detractors, Passives, and Promoters
Provides a

clear measure of company performance through the customers' eyes
Click the image below to enlarge our guide to "What Makes Best of Staffing Winners Different" and learn the four key characteristics that separate the best from the rest.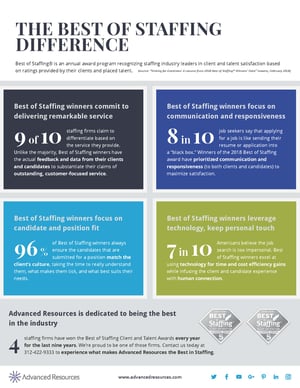 Advanced Resources is proud to be only one of four staffing firms in the U.S. to be named a Best of Staffing company for every year since the program's inception.